The hotel industry is thriving around the world, offering travelers a wide range of comfortable and enjoyable accommodation options in both bustling cities and quiet countryside locations. No matter your preference or requirement, you can be sure to find something that perfectly suits your needs! Hotel managers must strive to create a unique offer that exceeds their rivals in order to stand out. To effectively reach this goal, constructing a dependable and efficient wastewater treatment system is paramount - ensuring guest contentment and protecting the environment while adhering to governing laws and regulations.
As a hotel owner or manager, you may consider upgrading or installing a new wastewater treatment system. There are many benefits to doing so, both for the environment and for your bottom line. In this blog post, we'll explore why investing in a wastewater treatment system is a smart move.
1) Fix or upgrade an existing system
If you're experiencing issues with your septic tank, it's critical to take immediate action. Ensure the safety of nearby water sources first and foremost - if your system has been properly installed and maintained thus far, any contamination risks should be minimal.
If not, then you're exposing the environment to potential pollution and endangering everyone's well-being. Don't forget that there are governing bodies observing your activities closely - so it would be wise of you to take care of any septic tank issues promptly in order to stay away from any fines or legal consequences. Repairs can often come at a high cost; thus, investing in an up-to-date wastewater treatment system is more beneficial long term since modern systems are far more efficient and eco-friendly.
If your septic tank is in good working order but you still want to improve the treatment performance, then you can simply opt for the retrofit option, which means a treatment unit is placed behind the first tank. This will allow the wastewater to be treated a second time. The effluent that comes out of it will no longer pollute the environment. This is the best solution for those who are short on time and do not want a large construction site at the back of their hotel.
2) Set up an all-new system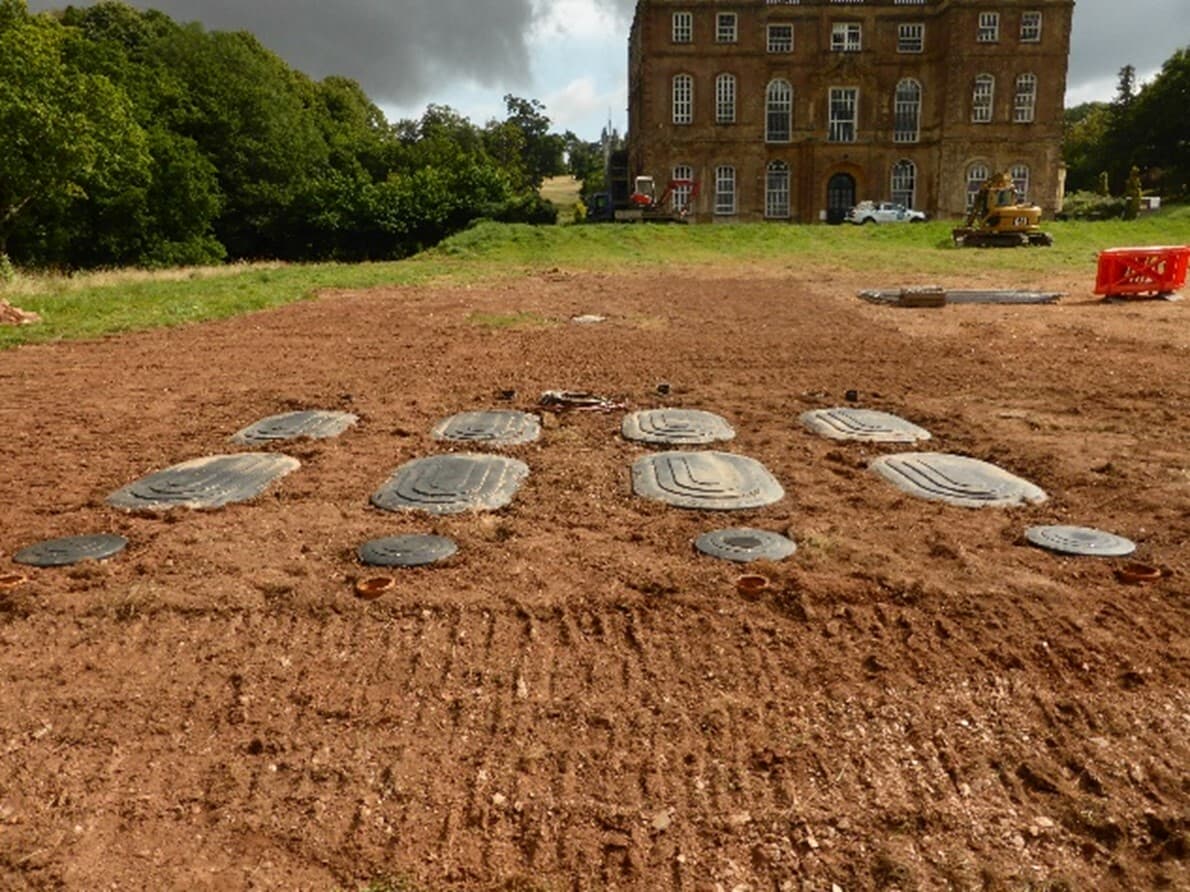 Halswell House: MULTIROCK Installation in England
When it comes to installing a wastewater treatment system in any new hotel, there are several factors that need to be taken into account. Most traditionally, these would include the size and position of the proposed plant; however, beyond this one of the most important considerations is how safe will its effluent output be. Ensuring quality and safety should always come first when investing in such an invaluable asset.
Preserving the natural habitat and safeguarding source water in the region should be an utmost priority. Not only will this benefit surrounding ecosystems, but it also has the potential to boost hotel businesses - so everyone wins! Depending on its location, a permit may need to be acquired for wastewater discharge from the hotel.
Setting up a new wastewater treatment system for a hotel can be a daunting task. However, the benefits associated with setting up a new system can be many. A new system can often be more efficient than upgrading an existing one and may have lower maintenance and operating costs, making it possible to save money in the long term. With the help of expert technicians, it is possible to set up a reliable wastewater treatment solution that meets desired environmental standards and exceeds expectations, delivering peace of mind to everyone involved.
3) Choosing the right system
Choosing the right wastewater treatment system for a hotel is an important decision that has numerous benefits. From investing in an existing system or installing a brand new one, selecting the proper setup can make a huge difference for both the environment and saving money long-term. Having the proper solutions means best-in-class water recycling as well as effective water reuse and protection of local ecosystems. Therefore, ensuring that a suitable wastewater treatment system is chosen for any given hotel can prove to be invaluable.
You will need to take into account the size of the hotel and the number of wastewater-generating units, daily wastewater volumes, and peak and off-season volumes as well. You want to install an efficient system that will save precious resources and help preserve the environment.
If you already have a functioning septic tank, and just want to upgrade it, our ECOROCK treatment unit is the perfect solution. It fits most of the primary tanks on the market and will complement your septic tank perfectly.
We have specifically designed our systems to accommodate larger establishments. Our MULTIROCK System is modular and allows for a larger capacity of between 60 to several hundred people, making it the perfect system to be installed and modified according to your unique requirements.
MULTIROCK is extremely efficient in terms of domestic wastewater purification and has proved to be one of the best-performing systems on the market.
Our eco-friendly wastewater treatment plant consisting of several ECOROCK-5010 installed in parallel complies with European regulations for the treatment of domestic wastewater and allows for the treated effluents to be discharged directly into the natural environment. You should make inquiries with the local district authorities in order to find out the local regulatory requirements for using the effluents for irrigation purposes.
Below see an example of a MULTIROCK system installed in a housing estate, with an irrigation system for the plants to reuse the treated water ingeniously.
Contact us now for customized support in your project!
While it may seem daunting to upgrade or even start anew with a wastewater treatment system, the benefits far outweigh the cons. Not only will you be doing your part to save the environment but also cut costs in water consumption and usage. Choosing the right system is critical and heavily depends on the terrain, climate, and weather conditions of where your hotel is situated. More advanced equipment that tackles sedimentation, filtration, and chemical treatment processes will be significantly more cost-effective than highly labor-intensive regimes that were deployed by older systems. By treating wastewater using smarter approaches, hotels not only undo some of their negative impact on the environment but can also enjoy financial savings in their operations as well. Consider all these factors when making your decision and don't hesitate to inquire about our services.